Paving
Pave All specializes in the installation and resurfacing of asphalt driveways and parking lots. As a paving solution, asphalt offers a low cost, durable, yet recyclable material. Pave All has the experience to complete residential or commercial projects of any size. If you're looking for a smooth, durable surface for your parking lot, driveway, walkways, or other pavement needs, contact us for more information or to schedule an estimate.
Pave All specializes in any project involving asphalt in Akron, Canton, Cleveland and the surrounding areas. We use only modern techniques and quality asphalt materials to produce the best driveways, sidewalks, and parking lots that will stand the test of time. Asphalt is pliable, making it an ideal option for our climate. With every asphalt paving project, we install a packed gravel base before applying asphalt. This ensures a for proper drainage and a surface that will last for many years to come. We always finish our projects with a professional grade sealant protecting the new surface from the elements for a long lasting driveway, walkways, and parking lots.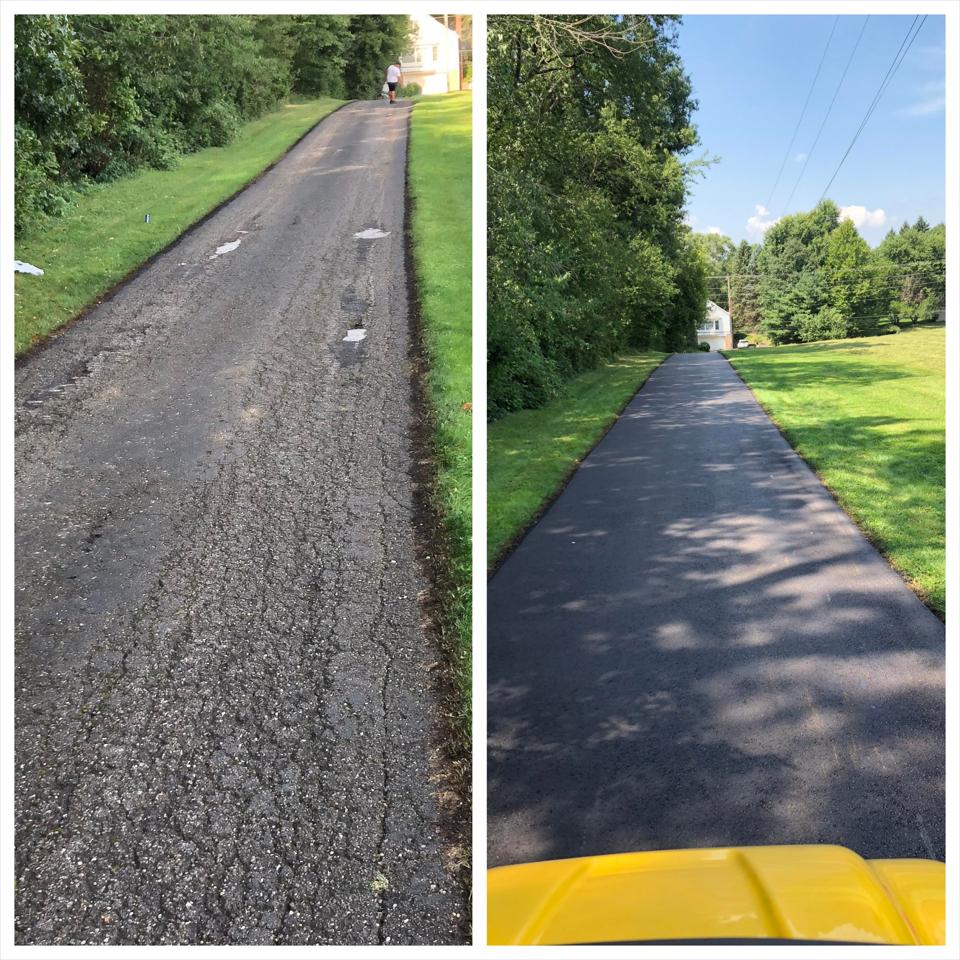 Residential & Commercial Sealcoating
Pave All Asphalt Company is an affordable asphalt seal coating contractor in Akron, Ohio. We offer professional residential and commercial asphalt sealcoating in and around Akron, Ohio. Sealing your asphalt on a regular basis is extremely important. Over time, asphalt that is not maintained will begin to crack, break down and break apart. This can be avoided by regular asphalt maintenance and sealcoating. Regular maintenance will increase the longevity and the appearance of your asphalt driveway or parking lot. Asphalt sealcoating is a unique process that applies a coating that acts as a barrier from materials that may react with the surface of the asphalt. Some of these include weather, water, dirt, oil, and chemicals. We begin by thoroughly cleaning the entire asphalt surface. Once the asphalt surface is clean, we will repair any problem areas by patching and crack filling. When repairs have been completed and have had time to dry, we begin the sealcoating process and apply an emulsion asphalt sealer. Where appropriate, to prevent staining, small brushes are used to cut-in adjacent to curbs, aprons, sidewalks, etc. You may notice a darker shade resulting from additional material in those areas, but in time, these areas will blend in with the rest of your driveway or lot. This important step of the asphalt paving process will ensure your asphalt will last for much longer by withstanding the elements.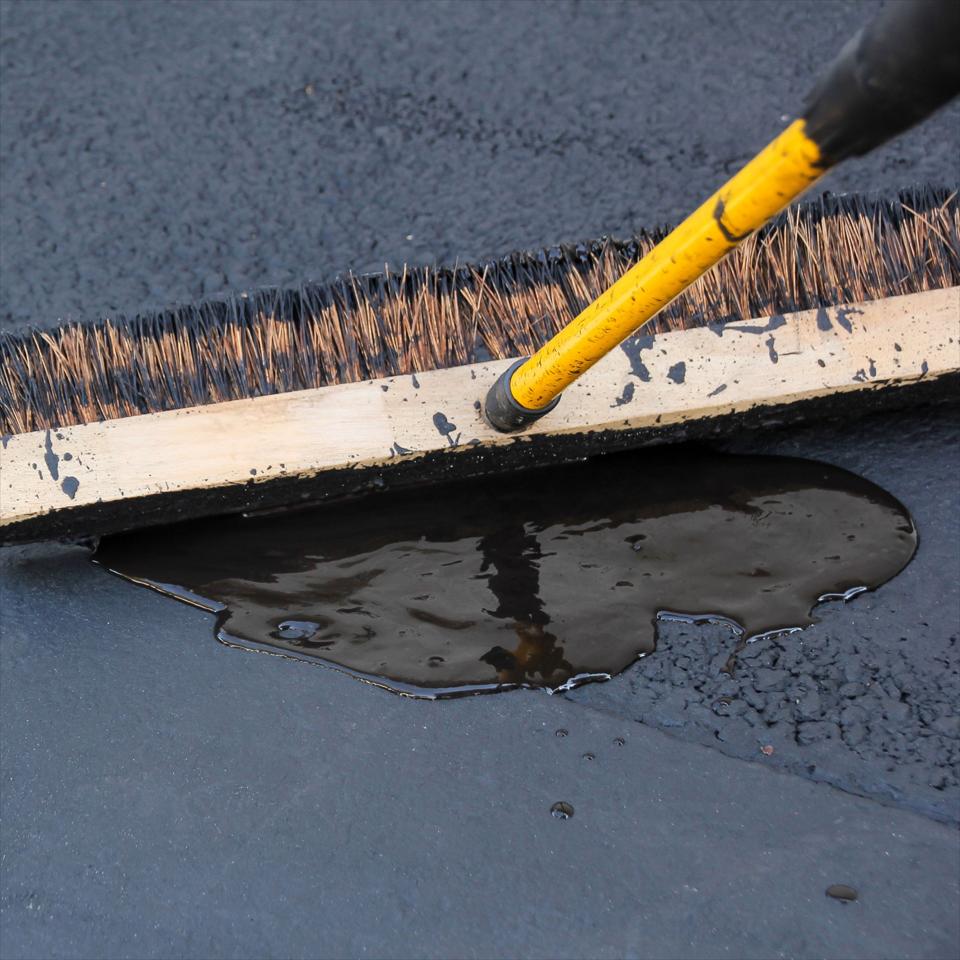 Maintenance
Pave All Asphalt Company specializes in residential driveway overlays/resurfacing services in and around Akron, Ohio. There are many reasons why asphalt pavement might start cracking. Regardless of the reason, Pave All Asphalt Company will help prevent cracks from spreading or forming new cracks. Our experienced crews will get the issue taken care of quickly and affordably so your pavement surfaces last for years to come. Contact us today for more information or to get us working for you.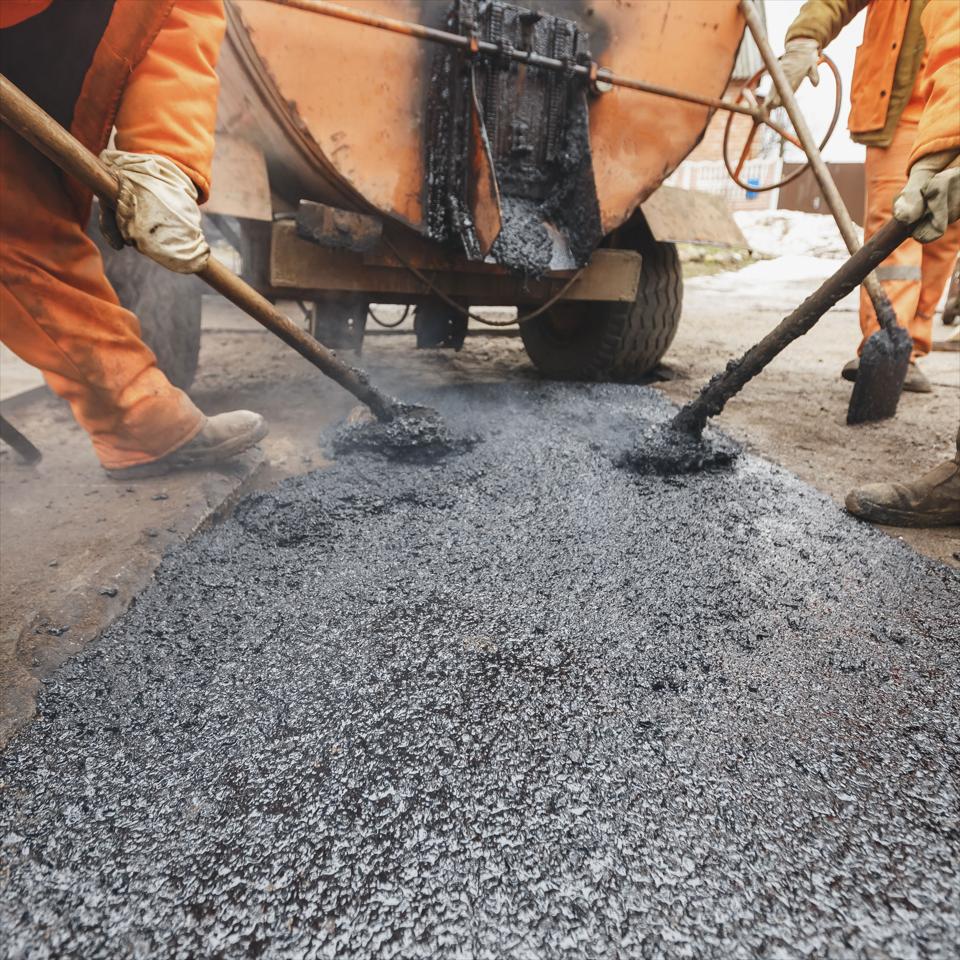 Repair
Pave All Asphalt Company provides affordable asphalt patching, crack filling and asphalt pothole repair in Akron, Ohio. A major part of asphalt maintenance is to patch damaged areas and fill cracks in your driveway or parking lot. If holes and cracks are not filled, moisture will penetrate under the asphalt surface causing pot holes, sinking, alligator webs, soft spots and other extensive damage requiring costly repairs. In addition, vegetation will begin to grow, causing the surface to break apart even more. Professional asphalt patching and crack filling will save money on unnecessary expensive repairs and greatly increase the lifespan of the driveway or lot. For a long-lasting professional finish, we recommend sealcoating the entire surface with an emulsion sealer. Asphalt patching is performed to correct isolated or random areas with problems on the driveway or lot. Damaged asphalt is carefully removed and a new base material is installed and compacted as needed. We will then apply a strong tack coat to the edges of the newly cut area. Finally, we install new high-quality asphalt with the same grade as adjoining asphalt and compact to a uniform finish. For filling cracks, we begin by thoroughly cleaning out all cracks of dirt and debris. This allows us to completely fill the crack with a thick layer of hot rubberized asphalt filler. We use only the highest quality hot rubberized crack filler on every project. Our high-quality product protects moisture from going down and vegetation from coming up. Professionally filling cracks in asphalt will save money on unnecessary expensive repairs and greatly increase the lifespan of the driveway or lot.